All Terrain Crane Liebherr LTM 1055-3.2 Hire In Sydney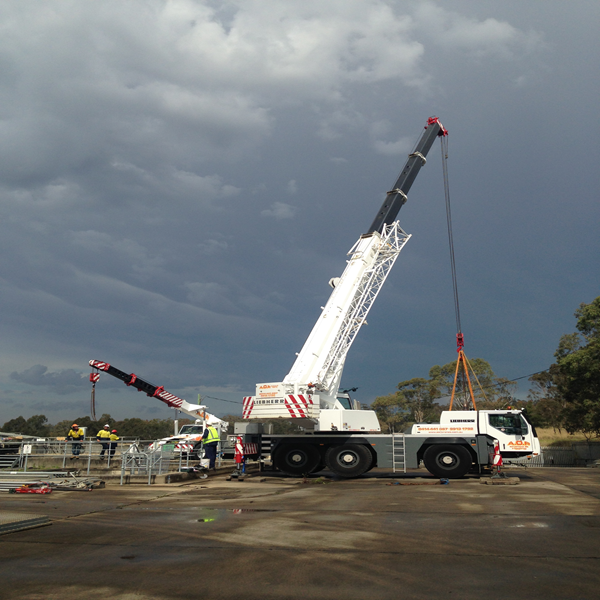 55t Liebherr LTM 1055-3.2 Crane Hire Services Sydney
If you need a mobile crane available in Sydney, NSW & Australia wide., we have a mobile crane to suit your needs. All-terrain Crane Liebherr LTM 1055-3.2 are available for use. Hire now.
Cranes are pivotal to successful commercial projects especially for those in tight corners and angles. The All-terrain Crane Liebherr LTM 1055-3.2 is typical to help lift and carry heavy materials from one location to another.
With the extensive knowledge of all kinds of construction we have implemented in the past, our target is to consistently meet and exceed all of your demands and expectations.
The three-axle LTM 1055-3.2 all-terrain crane provides high flexibility through its outstanding lifting capacities with full and part ballast. The fully automated support levelling and ballasting systems with advanced keyhole technology ensure that the crane can be made ready for use very quickly. That will make the 3-axle crane popular with many customers who prioritise flexibility.
Terrain Crane Liebherr LTM 1055-3.2 Features
Introduced in 2007, the Liebherr LTM 1055-3.2 All-Terrain crane has outstanding load abilities with either full or part counterweight. Fully automated support levelling and counterweight with advanced keyhole technology ensure the crane can be made ready for use very quickly.
Specifications: 
Max. load capacity; 55 t

at radius; 2.50 m

Telescopic boom from; 10.20 m

Telescopic boom up to; 40.00 m

Lattice jib; from 9.5 m

Lattice jib up to; 16.0 m

Drive engine/make; Liebherr

Drive engine; 6-Zylinder-Diesel

Drive engine/power; 270 kW

Number of axles; 3

Drive/Steering standard; 6 x 4 x 6

Drive/Steering option: 6 x 6 x 6

Driving speed: 85.00 km/h

Total ballast: 12.00 t
Terrain Crane Liebherr LTM 1055-3.2 Capability
As a highly efficient machine, All-terrain Crane Liebherr LTM 1055-3.2 possesses several capabilities stemming from its build. 
Its VarioBase makes the crane's support system variable. It enables each outrigger to be extended to a different length. This enhances safety, particularly in tighter spaces. And what's more, the crane's lifting capacities are significantly increased, particularly over the outriggers and depending on the configuration.
Its ECOdrive feature makes the crane significantly more comfortable and quieter by reducing the engine speed. Faster gear shifting delivers greater dynamic traction off-road. On the road, the torque from the Liebherr diesel engine is used efficiently to minimise fuel consumption.
Its ECOmode also minimises to the barest minimum both fuel consumption and noise emissions when operating the crane superstructure. 
High mobility and efficiency
A high-performance 6-cylinder Liebherr turbo diesel engine with 270 kW/367 HP provides for dynamic driving performance.  
The 12-speed ZF-gearbox with automatic gear change system AS-TRONIC grants high efficiency and best comfort.

Reduced fuel consumption due to the high number of gears and a high degree of efficiency of the dry clutch

Best manoeuvrability and minimum crawl speed using the 2-stage transfer gearbox 

ABV- automatic blocking preventer with ASR anti-slip control.
Compact, Mobile and Weight-Optimised
Due to its extremely compact design, the LTM 1055-3.2 can also manoeuvre on the tightest job sites. 
Chassis length only 9,36m

Minimum turning radius only 7,58m

Chassis width only 2,54m, even with tyres 445/95 R25 (16.00 R 25)

Tail swing only 3,50m
Terrain Crane Liebherr LTM 1055-3.2 Sydney Crane Hire, AOR  Cranes
Are you looking for Terrain Crane Liebherr LTM 1055-3.2 Sydney? Tell us what you are looking for! Call us or visit our contact us page for more information.  
AOR Cranes was formed in 1993 and remains to this day a strong local business with a core value of professionalism and integrity, providing both standard crane hire and rigging services. 
Critical to our business is a dedicated team of highly-skilled, experienced and qualified crane operators, riggers, fitters and technical support staff we deploy for crane services in Sydney.
Check out our alternative all-terrain options, including