As a leading Curl Curl crane hire service provider, you can be assured that AOR Cranes and rigging firm will aid you with the required crane for your project, so call us today on 02 9913 1792 for our consultation and hire a crane in Curl Curl. 
If you have a construction job and don't know what cranes to hire to get the job done, our expert technicians can furnish you with their wealth of experience when you consult with us. We provide information that you can rely on that will present you with opportunities that lift your dreams. 
Over the years, AOR Cranes has forged a strong partnership with Sydney Water and has supported many projects throughout Sydney, building a reputation for reliability, technical expertise, and a superior standard of professionalism at every level. Some examples of such projects include:
North Head Sewage Treatment Plant,
Rouse Hill Recycled Water Plant,
Glenfield & Liverpool Sewerage Treatment Plant upgrades and renewals
The Desalination Plant at Kurnell built the Delivery Pump Station and Electrical Switch Room for the Delivery Alliance.
We have worked on several large projects in major cities such as Central Coast and Northern Beaches suburbs, North Shore suburbs, and Eastern suburbs. We provide a great experience in many of the surrounding areas:
Freshwater|Manly | Queenscliff |Avalon | Balgowlah | Dee Why | Warriewood | Manly Vale |Davidson | Curl Curl | Killarney Heights| Waitara| Killara| Lindfield | Asquith | Roseville| Hornsby | South Turramurra| West Pymble | Normanhurst | St Ives | Chatswood.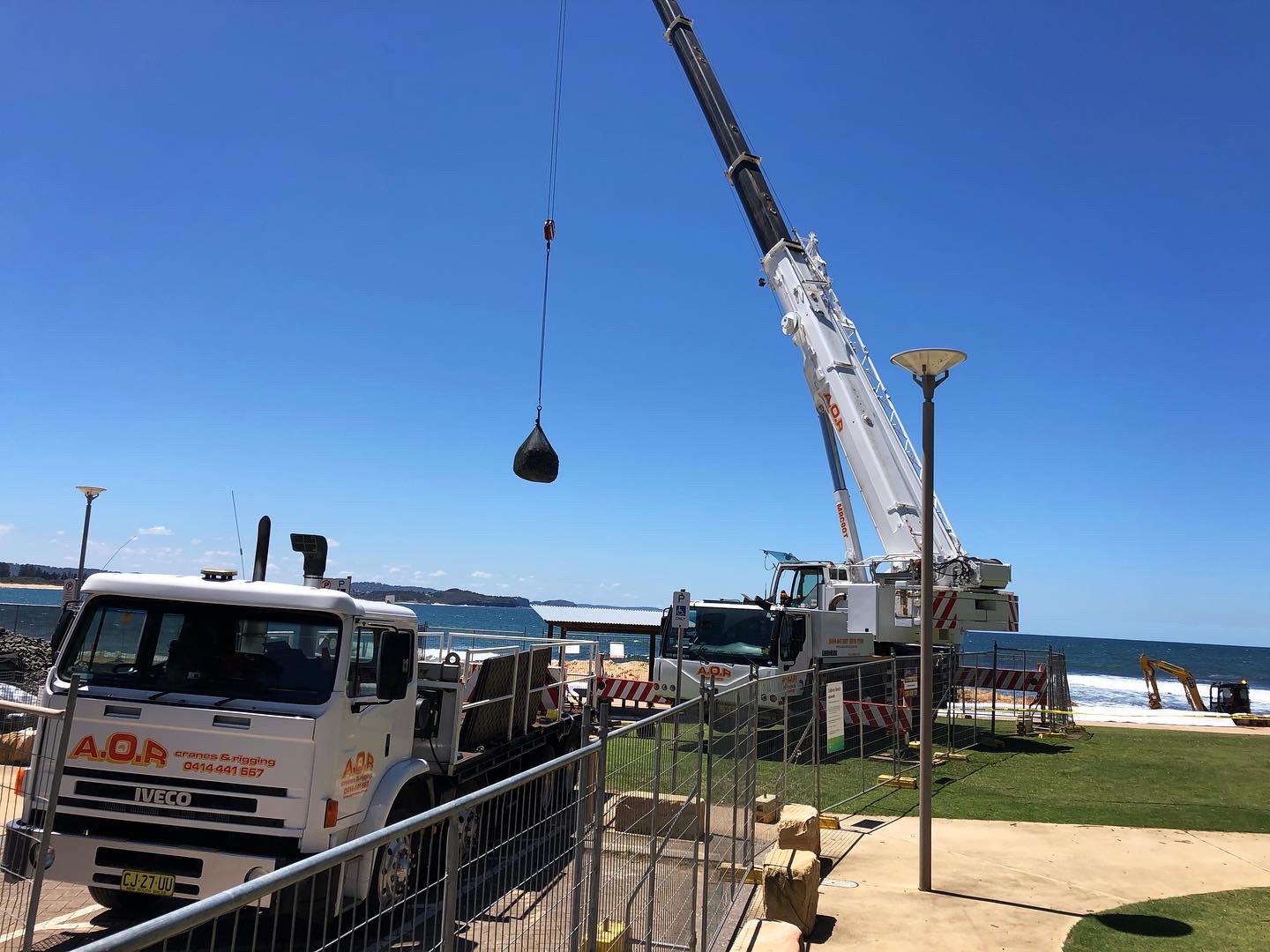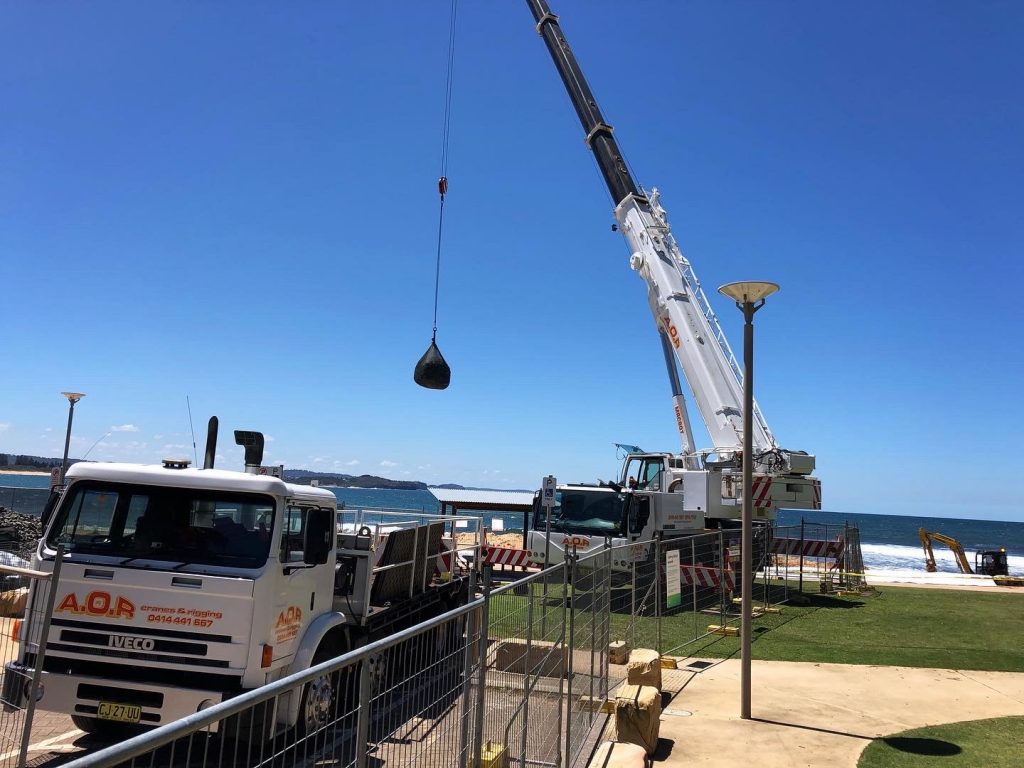 AOR Curl Curl Crane Hire:
With a wide range of diverse cranes to choose from, we offer all-terrain cranes, crawler cranes, rough terrain cranes, and tower cranes solutions at a competitive price, providing technical support before, during, and after the project. AOR Crane Hire is Sydney's leading local supplier of cranes in Australia. Our crane hire company based in Narrabeen provides both CPA contract hire and CPA crane hire services worldwide. Here in Curl Curl, we offer; 
Tower Crane hire Curl Curl: A self-erecting tower crane's unique design has all the features of a mobile telescopic crane and a static tower crane combined into one. The result is a folding mobile tower crane. In many job sites where our cranes have been hired, our cranes have proven to have distinct advantages, having greater range and maneuverability, providing more safety and giving higher reach and accuracy.
Mobile Crane Curl Curl: We are open to collaborating with every industry, from real estate to large road, sewage construction projects and complicated industrial sites and have completed hundreds of projects in and around Sydney. All of our Cranes are road-worthy and safety compliant as demanded by the regulatory bodies.
We operate the most modern fleet of professional heavy-lifting mobile cranes in Curl Curl. We are continually ready to invest in mobile cranes, all-terrain cranes, workers and emerging technologies that allow us to raise the bar a notch higher every single time.
Why hire AOR Crane and Rigging Services?
Exceptional standard of crane hire Curl Curl: It is one thing to have crane rentals and another to know precisely how business works and how your customer satisfaction can heighten, always. This is what we consider here at AOR crane and rigging company. We give you service beyond the regular standard to have your construction project completed 100% no matter your building plans. We can assure you that we can solve all of your crane issues so that you can embark on your construction work. You can choose AOR Crane company today when you call now to begin the plans here in Curl Curl.
Affordable cost and reliable services: Getting crane services that you can rely on and make your regular go-to here in Curl Curl is the desire of everyone. AOR cranes and rigging can meet those expectations. Our crane hire service Curl Curl is reliable for any kind of crane requirements that you need. We understand how costly hiring a crane for a site can be. This is why AOR stands unique. We give a breakdown cost that would still be very friendly for your pocket. All you ought to do is call now to see how our rental plans best suit your project.
AOR Crane Services' professional team: Our trained team is always ready to help you handle the equipment on your site. We don't work with novice minds but rather skilled hands, so you can trust our judgment. AOR crane teams have that team Spirit that will show in how things are handled. Everyone has a sense of responsibility for how to play their part in the setup.
Family-run Business: We have a legacy that we cannot afford to destroy. Over the years, we have built a culture around our firm: always adding ideas to create a better customer experience. Being a family-run business, we channel all our efforts to give our customers a satisfactory service. We always want to keep our legacy as crane experts. 
Timely, efficient, and reliable services: Once you put a call through to the AOR crane company, our next move is to get the crane right to your site. We are always known to be alert and have no plans to waste the time of our precious customers. We offer all the crane services with efficiency, and our reliability is nothing short of 100%.
Our Sydney Crane Hire Locations