Get a free quote within 30 minutes for your next Davidson crane hire. If you are searching for a Davidson crane hire, then look no further than AOR Cranes and Rigging. 
AOR Cranes can arrange and handle heavy-lifting from start to completion, sticking strictly to CPA model regulations & CPA contract lifting services. 
Over the last 20 years, we have executed many notable constructions all over Sydney, partnering with Sydney water amongst other major partners. Not only do we offer unrivalled Davidson Crane Hire Services for your crawler cranes Davidson and All-terrains cranes Davidson hire needs. We also have our crane drivers and maintenance workforce that ensure our fleet's smooth and consistent running. Visit our contact us page to learn more about us.
Unpredictable and extreme weather conditions may demand All-Terrain cranes, rough terrain cranes and ancillary equipment at short notice. Hiring AOR cranes – specifically designed for Australian conditions – means that you can complete your work in no time. If a construction job deadline gets reduced, you need every piece of equipment to avoid the headache of excess concerns.
AOR crane rental Davidson comprises our most efficient cranes and our newest introductions to the fleet. Our crane rental Davidson solution allows you to use some of the industry's most advanced equipment and evaluate its technology without an obligation to purchase. Whenever you have a project here in Sydney, our doors are open to you. Book now. 
AOR Davidson Crane Hire:
Construction sites in Davidson often need an excellent array of crane and rigging services to maneuver, manipulate, and lift heavy objects and construction materials. From small light-duty cranes to larger cranes capable of lifting heavy weights to great heights, we have the solution for all types of jobs – but where can your team get the help required? At AOR Cranes & Rigging, we offer reliable crane hire Services in Eastern Suburbs.
We have earned an excellent reputation by providing cost-effective and reliable Crane and rigging solutions to Northern Beaches suburbs, North Shore suburbs, and Eastern Suburbs Construction Service Providers. 
Safety is our number one priority. We are on a mission to become the easiest choice for our customers by providing a full range of lifting services, all supervised under the watchful eye of our experienced team.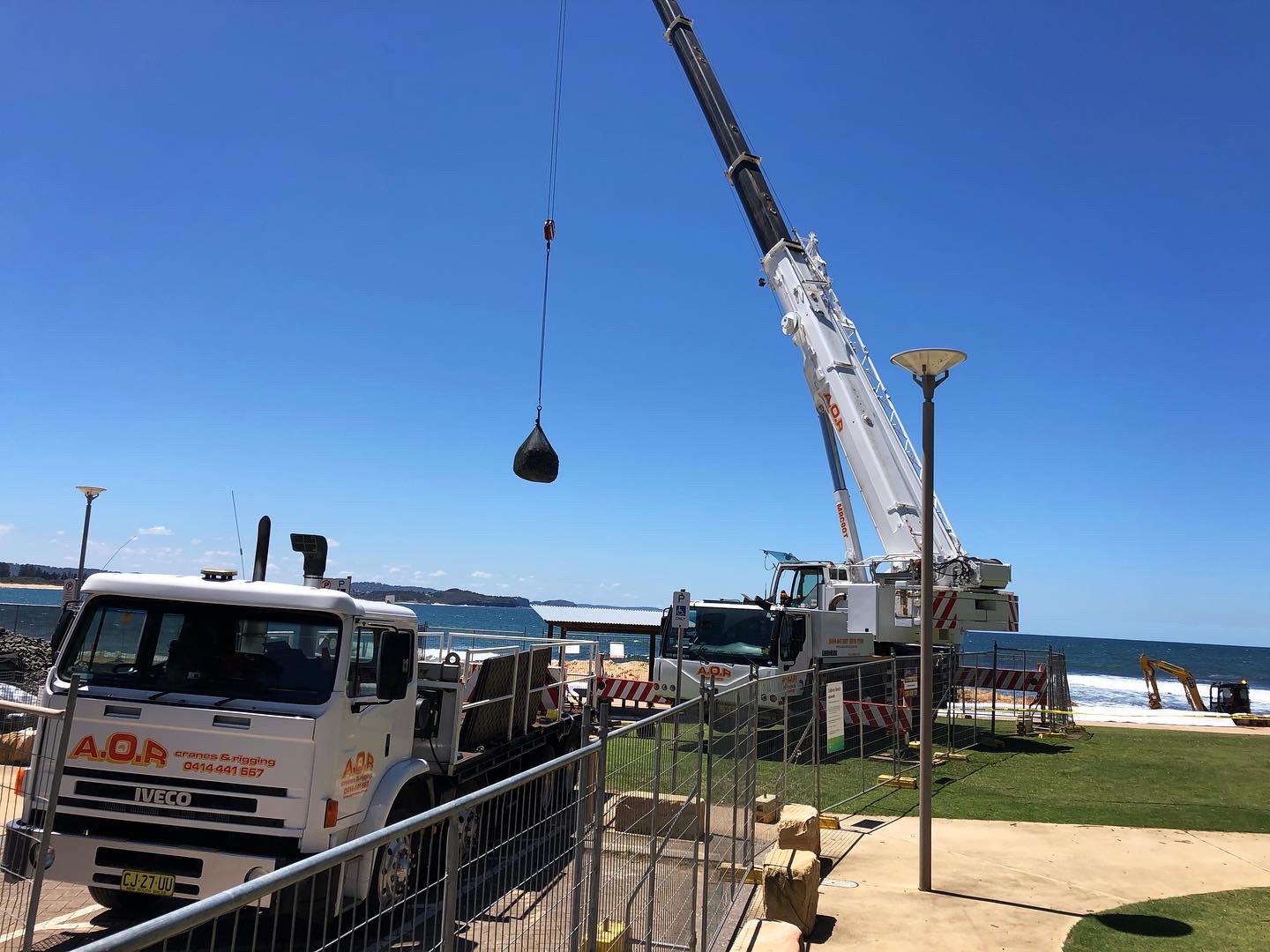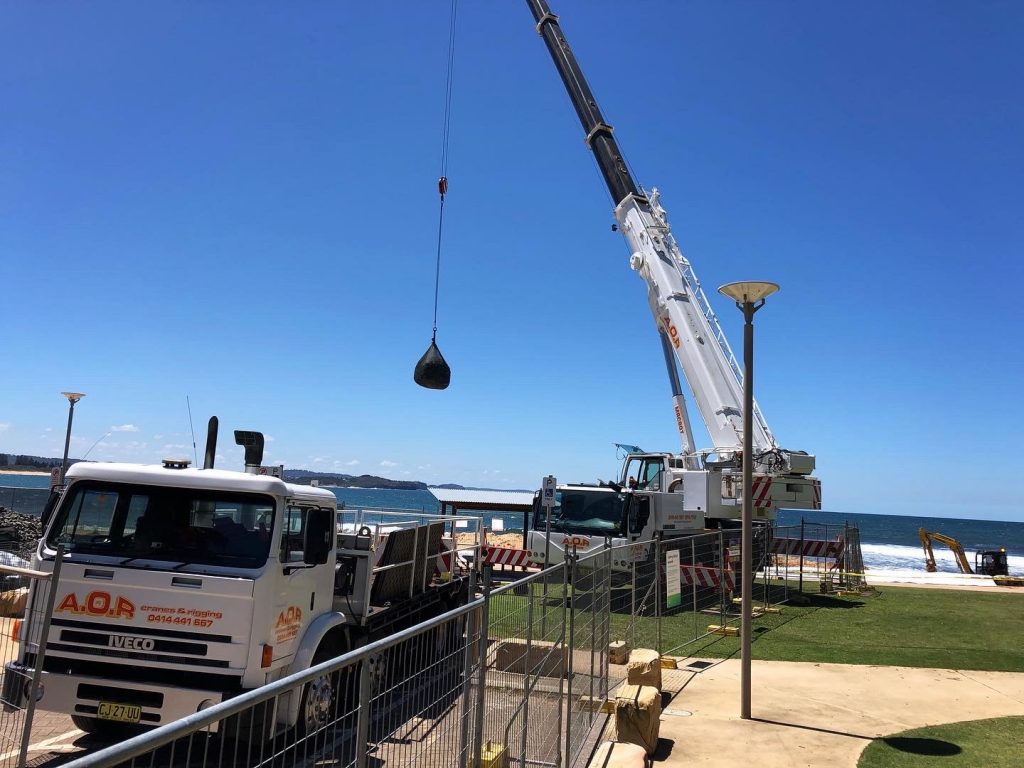 Tower Crane hire Davidson: AOR cranes and rigging operates a comprehensive Tower Crane Hire service, including telescopic cranes, loader cranes, truck-mounted cranes, flat-head cranes, and luffing jib cranes. We run a fleet of modern tower cranes, a modern fleet of luffing jib, saddle jib and remotely-controlled cranes for hire here in Davidson and surrounding Suburbs. Tower cranes outperform standard telescopic cranes, providing a more practical, quicker and more cost-effective solution also offering a mess of other benefits to a lifting operation.
Mobile Crane Davidson: AOR Cranes has the largest and most diverse automatic operated mobile crane hire fleet in Davidson. We supply mobile cranes to projects all over Sydney. Our dedicated team of specialists and an industry-leading technical department offer a thorough service, right from the first phone call consultation to the successful completion of your project.
Why hire AOR Crane and Rigging Services?
Exceptional standard of crane hire Davidson: It is one thing to have crane rentals and another to know precisely how business works and how your customer satisfaction can heighten, always. This is what we consider here at AOR crane and rigging company. We give you service beyond the regular standard to have your construction project completed 100% no matter your building plans. We can assure you that we can solve all of your crane issues so that you can embark on your construction work. You can choose AOR Crane company today when you call now to begin the plans here in Davidson.
Affordable cost and reliable services: Getting crane services that you can rely on and make your regular go-to here in Davidson is the desire of everyone. AOR cranes and rigging can meet those expectations. Our crane hire service Davidson is reliable for any kind of crane requirements that you need. We understand how costly hiring a crane for a site can be. This is why AOR stands unique. We give a breakdown cost that would still be very friendly for your pocket. All you ought to do is call now to see how our rental plans best suit your project.
AOR Crane Services' professional team: Our trained team is always ready to help you handle the equipment on your site. We don't work with novice minds but rather skilled hands, so you can trust our judgment. AOR crane teams have that team Spirit that will show in how things are handled. Everyone has a sense of responsibility for how to play their part in the setup.
Family-run Business: We have a legacy that we cannot afford to destroy. Over the years, we have built a culture around our firm: always adding ideas to create a better customer experience. Being a family-run business, we channel all our efforts to give our customers a satisfactory service. We always want to keep our legacy as crane experts. 
Timely, efficient, and reliable services: Once you put a call through to the AOR crane company, our next move is to get the crane right to your site. We are always known to be alert and have no plans to waste the time of our precious customers. We offer all the crane services with efficiency, and our reliability is nothing short of 100%.
Our Sydney Crane Hire Locations