There are a lot of crane hire companies in Ryde, but sometimes it is hard to find the perfect one for you. It's not just about the price, but the overall service that the company offers.
AOR Cranes and Rigging offers a comprehensive range of Ryde crane hire and other lifting equipment to meet the needs of your project. Our fleet of cranes and rigging equipment includes mini-tower cranes, mobile cranes, crawler cranes, tracked cranes, rough terrain cranes, self-erecting tower cranes, jib cranes and more.
Our Ryde crane hire service is tailored to accommodate your need, whether short or long term. We provide one-off crane hire as well as long term contract hire. Our hire rates are very competitive, and if you are looking for longer-term hire rates, we are always happy to discuss your project needs.
For all of your Crane Hire needs in the Sydney region, including the suburbs of Lane Cove, Lindfield, Killara, North Shore, North Sydney, Roseville Chase, and Castle Cove keep us in mind! If you are looking for reliable crane hire services in Ryde then AOR Crane Services can help with all your needs. We have the resources and expertise to handle any project, no matter how small or large it may be.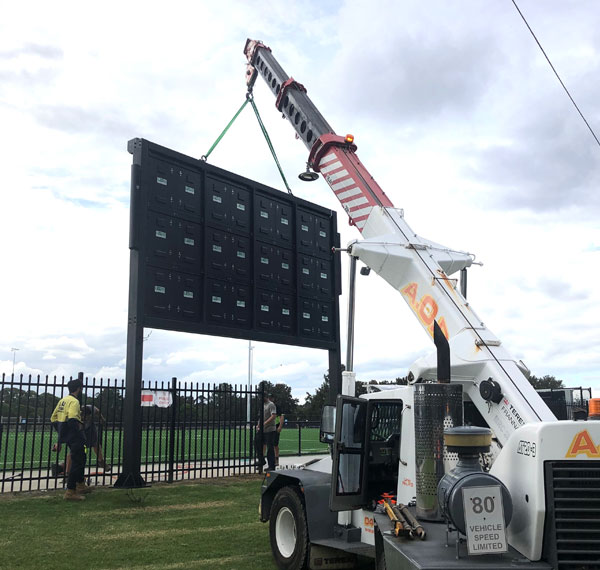 Tower Crane Hire Ryde:
With a boom length of 25 to 50 metres and loads of up to 2,000 tonnes, this machine is one of the most impressive pieces of equipment used in Australia's construction industry. The tower cranes we offer for hire in Ryde comes with a basket and jib, and they can be installed on top of a building, on the ground or any other elevated surface. This types of cranes is typically used in constructing high-rise buildings to reach greater heights than other types of cranes.
Franna Crane Hire Ryde:
The outstanding versatility and manoeuvrability of  Franna Cranes make them a valuable piece of kit for a wide range of applications, from lifting steel on building sites to moving heavy machinery around on farms. You can get a quality Ryde Franna crane hire throughout the Eastern Suburbs, Northern Beaches and North Shore Sydney, with no hidden costs or extras.
Mobile Crane Hire Ryde:
Mobile cranes are most appropriate for home renovations and constructions in tight spaces. In addition, they usually are less expensive than crawler cranes – which makes them more attractive for those on a tight budget. 
Our Ryde Mobile Crane hire package include tripod jibs, articulating boom cranes and side booms. Tripod jibs have three legs, and they are quite stable when fully assembled – they usually have a lifting capacity of 25-35 tons and some models can reach up to 80 feet in height.
All Terrain Crane Hire Ryde: 
Our cranes are versatile enough to tackle jobs that would otherwise not be possible without expensive earth moving equipment. All-Terrain cranes are perfect for jobs with no road or difficult terrain access such as mud, grass, sand and gravel, or in locations where it would not be practical to use forklifts. Our Ryde all-terrain crane hire services are available 7 days per week, 24 hours per day, including weekends and public holidays.
Why hire AOR Crane and Rigging Services?
Exceptional standard of crane hire Ryde:

Our prices are affordable and competitive. We don't pressure you to use any of our optional services; we'll always quote for exactly what you need. If that's all you need, then that's all we'll charge you for.

Affordable cost and reliable services:

It is a painful thing when dealing with a broken down crane. You lose money and time, and it is tough to get the right crane service company. This is why you want to hire a company like AOR cranes who will be able to fix any issues you may run into quickly and efficiently.

AOR Crane Services' professional team

: As a professional team, over the years we have consistently redefined the crane hire experience in Sydney, gathering expertise worth executing a billion-dollar project without failing or slowing down. 

Family-run Business:

AOR Cranes is a family-run business, fully compliant with the latest HSE Regulations,  providing cranes for hire throughout Sydney. We pride ourselves on our customer service. Many of our clients have been with us for years and all of our staff are friendly, professional and experienced.

Safe services:

Our safety record is second to none, and it's important to us! Safety is one of our top priorities so if there's anything we can do to help ensure your health and safety, just let us know. We can also provide training for your staff if that would be helpful to you!
Complete the request form for any queries or questions you might have about our services or machines. Our friendly team will contact you within a business day with all the information you need.
Our Sydney Crane Hire Locations