All Terrain Crane Franna AT – 20 Hire In Sydney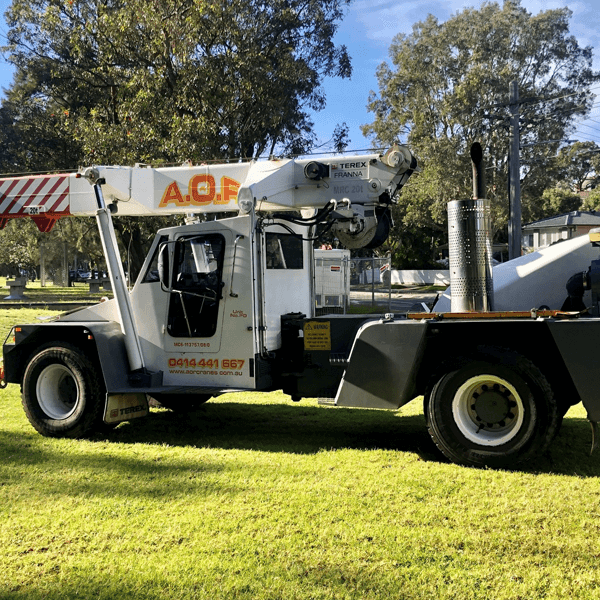 TEREX FRANNA AT-20 CRANE HIRE SYDNEY
When you choose AOR Cranes for Franna At – 20 crane hire in Sydney, you will be equipped with one of the most multipurpose lifting ancillary equipment available. 
AOR Cranes – Your Reliable Crane Solution Provider
When it comes to reliable and versatile crane solutions, AOR Cranes is your trusted provider in Sydney. With over 30 years of experience in the industry, we have established ourselves as a leading crane hire company. We are proud to offer the Terex Franna AT-20, an extremely popular Australian crane that excels in a wide range of lifting operations. With its exceptional lifting capacity, compact design, and advanced features, the Terex Franna AT-20 is the perfect choice for various projects that require agility and efficiency.
Key Features of the Terex Franna AT-20 Crane:
Impressive Lifting Capacity: The Terex Franna AT-20 boasts an impressive lifting capacity, allowing it to handle heavy loads with ease. With a maximum lift capacity of 20 ton, this crane is suitable for various applications, including construction, infrastructure development, and industrial projects.
Pick and Carry Capability: As a pick and carry crane, the Terex Franna AT-20 offers excellent mobility and versatility. It is designed to lift loads and move them to different locations within the job site without the need for additional equipment. This feature enhances productivity and efficiency, reducing downtime and maximising project timelines.
Compact Design: With its compact design, the Terex Franna AT-20 excels in operating in confined spaces and urban environments. It can manoeuvre easily through narrow passages and tight job sites, making it an ideal choice for projects with limited access. The compact size of the crane also simplifies transportation and setup, ensuring quick mobilisation to different project locations.
Advanced Safety Features: Safety is a top priority in lifting operations, and the Terex Franna AT-20 is equipped with advanced safety features to ensure secure and accident-free operations. It includes features such as load monitoring systems, emergency stop buttons, and stability control mechanisms, providing peace of mind to operators and project stakeholders.
Why Choose AOR Cranes for Terex Franna AT-20 Crane Hire in Sydney?
Extensive Experience: With over 30 years of experience in the industry, AOR Cranes has a wealth of knowledge and expertise in crane operations. We have successfully served numerous clients in various industries, providing reliable and efficient crane solutions.
Superior Equipment: Our Terex Franna AT-20 crane undergoes regular maintenance and inspections to ensure optimal performance and adherence to safety standards. We prioritise the reliability of our equipment to ensure smooth and uninterrupted lifting operations for our clients.
Experienced Operators and Support: Our team consists of experienced and highly skilled crane operators who are proficient in operating the Terex Franna AT-20. They possess in-depth knowledge of the crane's capabilities and safety protocols, ensuring safe and efficient operations. We provide comprehensive support throughout your project, ensuring your needs are met and exceeded.
Flexible Rental Options: We understand that every project is unique, and that's why we offer flexible rental options tailored to your specific requirements. Whether you need the Terex Franna AT-20 for a short-term or long-term project, we can provide a rental package that aligns with your needs and budget.
Superior Customer Service: AOR Cranes prides itself on delivering superior customer service. Our dedicated team is available to answer your enquiries, provide expert advice, and address any concerns promptly. We strive to ensure a seamless and hassle-free experience for all our clients.
Terex Franna AT-20 Crane Hire Sydney AOR Cranes
Are you interested in the Terex Franna Crane in Sydney? Let us know your requirements, contact us via phone or submit a message via our 'contact us' section down below.
Established in 1993, AOR Cranes is a reputable local company committed to professionalism and integrity. We offer a wide range of crane hire and rigging services.
Central to our operations is a specialized group of skilled and knowledgeable professionals, including crane operators, riggers, fitters, and technical support staff. They possess extensive experience and qualifications, ensuring top-quality crane services in Sydney.
Picking the perfect crane is a hard job, check out our other all-terrain options, including
X
Book Now Form
Error: Contact form not found.