All Terrain Crane Franna AT – 20 Hire In Sydney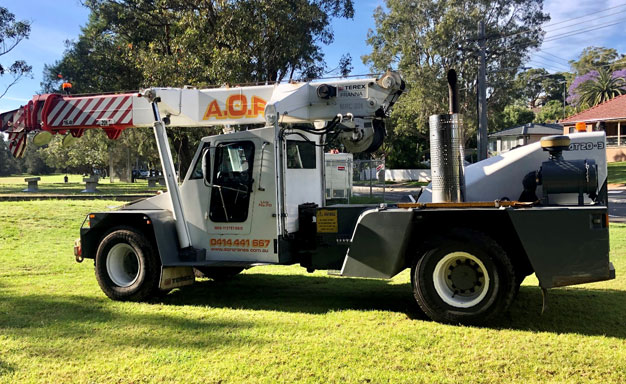 20t All-Terrain Franna Crane Hire Services Sydney
When you choose AOR Cranes for Franna At – 20 crane hire in Sydney, you will be equipped with one of the most multipurpose lifting ancillary equipment available. 
This is our most popular Franna crane available for hire, and for good reason! The Franna At – 20 crane is highly efficient and has the power, craftiness and adaptability to lift almost anything, anywhere. It's best for working inside buildings and relocating materials around large sites. 
Whether you need materials on the fourth floor of your building site or transferred from one end to the other, this is the right crane for you. Its size can afford it to go through doorways, hence why it's very useful in transporting materials from one end to another. 
The operator can lift heavy loads and transport them seamlessly in tight spaces. Franna At – 20 cranes don't delay getting to the job site quickly because of its high transport speed and it doesn't take long to set up as its articulated frame doesn't need any outriggers to help.
Terrain Crane Franna At – 20 Features
Air operated high capacity brakes

Spring-applied park brakes on both front and rear axles

Driver selectable engine exhaust brake available in all gears

Two semi-elliptic springs on the front and rear axle

Torsion bar on the front axle for stability

KAB Suspension on driver's and passenger's seats

Retracting seat belts

Colour LCD display

Radio/CD player with Bluetooth handsfree

Reversing camera

Centralised greasing

Cruise control

Engine monitoring

Service diagnostics

3B6 Rated capacity indicator with audio/visual overload pre-warning 

3-Axis joystick control for crane functions

Air conditioning and heating 

Easy access to main hydraulics, pilot hydraulics and service points
Specifications
Maximum Lifting Capacity: 20 tonnes at 1.4m radius

Main Boom Length: 17.9m

Crane Dimensions: Length 9.67m x width 2.5m x Height 3.07m

Front Axle Weight: 8,000kg – Rear Axle Weight: 11,500kg

Total Weight: 19,500kg

Travel Speed: 80kph
Terrain Crane Franna At – 20 Capability
Our Terrain Crane Franna AT – 20 cranes for hire will provide you with a variety of complementary abilities. Our Terrain Crane Franna AT – 20 cranes can fit through doorways and are therefore are ideal for use in tight spaces. 
With the slightly shorter jib of 17.9m and the 3rd section being a manual extension, the Terrain Crane Franna AT – 20 Pick & Carry Crane; along with our dedicated Premier crew, will assist in any condition and is ideal for tight spaces and/or restrictive job sites.
The following attributes make the Terrain Crane Franna AT– 20 possess great maneuverability, flexibility and adaptability. 
Main boom, two powered sections, and one manual section (3rd section)

Fully compensated hook height when telescoping boom 1 and 2 

Maximum line pull 4.2 tonne

Two speed winch 41m/min / 82 m/min

Hook block, four-part, maximum rated capacity 16.8 tonne

Front Axle: 8,000 kg

Kessler D71 PL478 heavy-duty high-speed planetary axle 

with driver-selectable diff lock

Rear Axle: 11,500 kg

Kessler D71 PL478 heavy-duty high-speed planetary axle 

Total: 19,500 kg

Maximum rated travel speed 85 kph

Gradeability 50%
Terrain Crane Franna At – 20 Sydney Crane Hire, AOR  Cranes
How much does Terrain Crane Franna At – 20 Sydney Crane Hire Cost?
Get in touch with AOR Cranes hire services Sydney for a free quote. Hire state-of-the-art, well-maintained cranes including rough terrain cranes, crawler cranes, tower cranes, and all-terrain cranes.
AOR Cranes are pleased to provide high-quality crane hire services throughout Sydney Australia and the nearby suburbs. Our crane hire solutions are fit for versatile purposes including construction, industrial, utilities, rail, and events. Hire today.
Picking the perfect crane is a hard job, check out our other all-terrain options, including