With cranes that are capable of lifting from 3-100 Tonnes, we can cater to all your lifting requirements in Lane Cove and Sydney. Our experienced and friendly staff will provide you with practical and expert advice to ensure your project is done on time and within budget. AOR cranes serve Lane Cove and its surrounding areas with our cranes and our exceptional customer service and client satisfaction, which we take pride in. 
We understand how important it is for you to make informed decisions about the crane you choose to hire so that your project runs smoothly. Our team will follow up with you throughout the entire process, from your first contact to completing the job. We are always professional, punctual, enthusiastic & conscientious in every one of our business deals.
For all of your Crane Hire needs in the Sydney region, including the suburbs of Mosman, Lindfield, Killara, North Shore, Chatswood, Waitara, and Hornsby, look no further than AOR Crane Hire Lane Cove when you require the following: Tower Crane Hire – Mini Crane Hire Lane Cove – Crawler / Truck Mounted-Telescopic crane with Robotic Camera Systems for inspections.
We have a wide range of cranes available for hire to suit all kinds of crane work. We offer our full service and a responsive team that are available to help you should you encounter any issues. We have various kinds of cranes available for hire, including: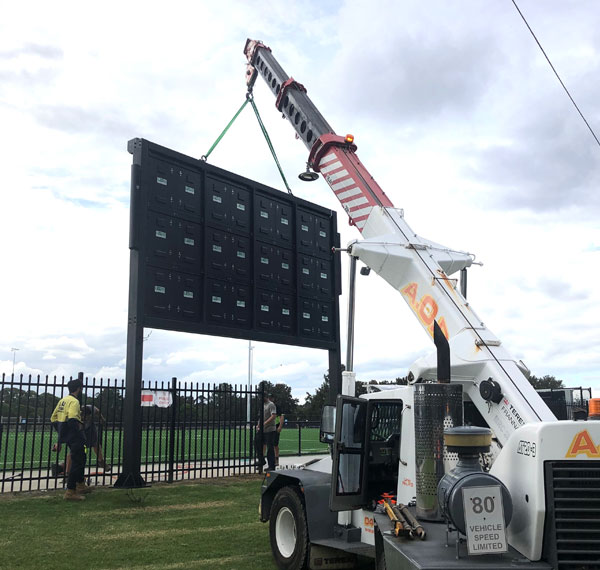 Tower Crane Hire Lane Cove:
AOR cranes offer the best Tower cranes hire in Lane Cove suitable for construction or industrial applications. The use of these tower cranes helps in minimising the risks involved during the construction process. We ensure that your project gets completed within a short period without compromising on the quality of the work.
Franna Crane Hire Lane Cove:
Our multi-purpose Franna cranes come in two varieties: Gantry and Mobile. Franna cranes hoisting machines offer various lifting options for building and construction purposes but can also be used in warehouses and storage yards. They have two sets of jibs that can rotate 360 degrees. This allows them to swing from left to right easily or even tip over if required. They also come with outriggers to increase stability and safety when working at height.
Mobile Crane Hire Lane Cove: 
Our mobile cranes have a lifting capacity of up to 35 tonnes. We have different types of cranes with varied capacities so even if you have a small requirement you can approach us without any worries or fears about your needs not being fulfilled by our company. Contact us right now on 0414 441 667. so you can get more details about our services and how we can help you out with your specific requirements.
All Terrain Crane Hire Lane Cove
: 
Our All-terrain crane hire fleet includes Franna, Rough Terrain and Telescopic cranes. They are perfect for jobs with limited access or no road access. The Franna range of All-Terrain cranes includes Crawler Crane Maeda MC-305C, All Terrain Crane Liebherr LTM 1040-2.1, All Terrain Crane Franna AT – 20, and more. Request a quote today.
Why hire AOR Crane and Rigging Services?
Hiring the most efficient and reasonably priced crane in Lane Cove is easy with AOR Cranes and Rigging. We are a small company, but our rates are competitive. There are many reasons why you should choose us, including:
Exceptional standard of crane hires Lane Cove:

AOR Crane Services is one of the most highly respected companies in Lane Cove, due to our commitment to providing quality crane hire, rigging services, demolition services, and more at competitive prices. We are proud of our reputation for being affordable yet reliable.

Affordable cost and reliable services:

Reliability is often an issue when the job site has many things going on at once. You can solve this by hiring our crane services, which will allow you to get the job done quickly and efficiently.

AOR Crane Services' professional team:

Our expert crew set us head and shoulders above other crane hire businesses in the area. We understand that each job is unique and that our customers have different requirements for each project they undertake. That's why we take time to learn about each customer's needs before we begin work on their project.

Family-run Business:

As a family run business, at AOR Crane Hire we treat our customers like our friends. If you want to save some money when you hire cranes and equipment in Sydney, give us a call today! 

Timely, efficient, and reliable services:

No matter how big or small your job is, we'll always be there when you need us. We're local, so there won't be any travelling time wasted, and we're always ready to go.
Here at AOR Cranes, we offer affordable, reliable crane service at a great low cost. This means that we find a way to get your project done efficiently while still saving some money for you. Whenever something goes wrong with your equipment, we have capable operators onsite to take care of it quickly to not slow down your project.
Our Sydney Crane Hire Locations