All Terrain Crane Liebherr LTM 1040-2.1 Hire In Sydney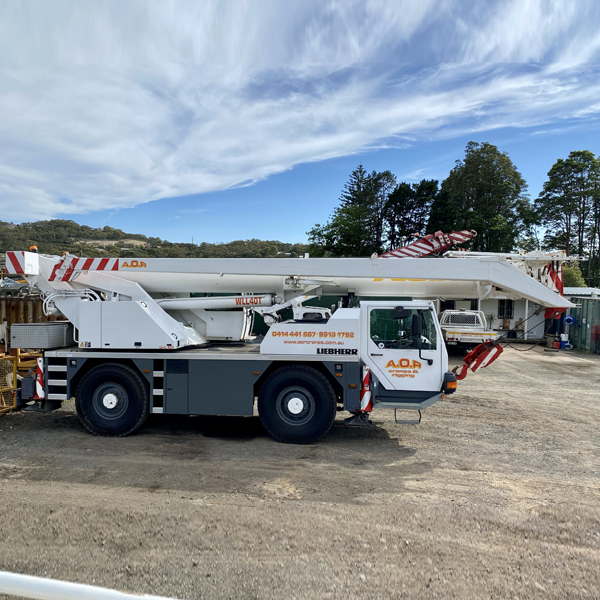 ALL-TERRAIN CRANE LIEBHERR LTM 1040-2.1 Crane Hire Sydney 
The LTM 1040-2.1 delivers excellent lifting capacities over its entire operating range. Its long, 4-piece telescopic boom can be extended with infinite adjustments to any length using a time-tested hydro-mechanical telescoping system. 
The telescoping process can also be completed whilst there is a load on the boom. A folding jib can be used to achieve a radius of up to 39 metres. Compared to the slightly smaller LTM 1030-2.1, this mobile crane can handle five tonnes more on its hook.
If you think you might need an all-terrain crane for your next project, or other crane depending on your need, contact AOR cranes today for a free crane hire service quote.
Terrain Crane Liebherr LTM 1040-2.1- Features
Max. load capacity; 40 t
at radius; 2.50 m
Telescopic boom; from 10.50 m
Telescopic boom; up to 35.00 m
Lattice jib; from  9.50 m
Drive engine/make; Cummins
Drive engine; 6-Zylinder-Diesel
Drive engine/power; 209 kW
Number of axles; 2
Drive/Steering standard; 4 x 4 x 4
Driving speed; 85.00 km/h
Total ballast; 6.50 t
Terrain Crane Liebherr Capability
As its name suggests, the LTM 1040-2.1 all-terrain crane is built for use on different types of terrain and under various weather conditions. 
It, therefore, offers superior off-road or rough terrain mobility as well as fast speeds on public roads and highways. It also has powerful lifting performance: a winning combination.
LTM 1040-2.1 all-terrain crane offers a great view granting the operator the power to monitor the setup processes using the BTT remote control. 
With a hoist height of up to 144 ft / 44 m feasible with the attached folding jib, the 4-piece extendable telescopic boom, the LTM 1040-2.1 all-terrain crane reduces fuel consumption by up to 10% with its Eco Mode. The prize-winning VarioBase support system is available as an option to enhance safety.
Terrain Crane Liebherr Sydney Crane Hire, AOR  Cranes
AOR Cranes—Heavy Lift & Rigging Specialists
When you choose AOR Cranes for Terrain Crane Liebherr LTM 1040-2.1- crane hire in Sydney, you will be equipped with one of the most multipurpose lifting ancillary equipment available.
Take a look at some of the other all-terrain cranes we offer before making your final decision. These include