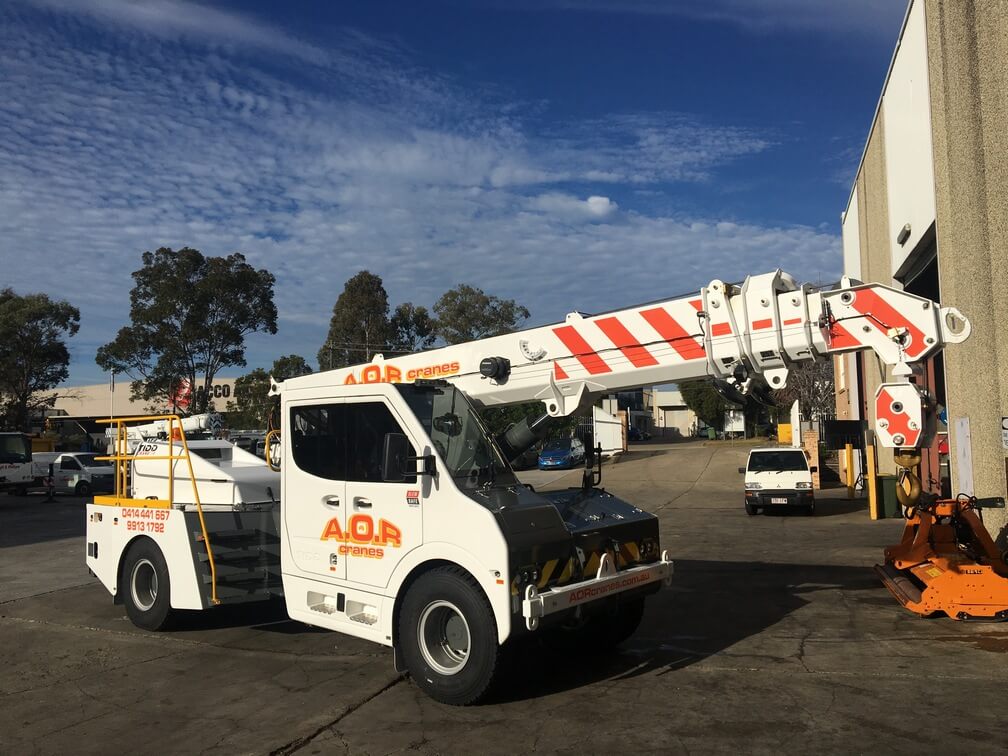 TIDD PC28 Crane Hire Sydney 
The TIDD PC25 pick & carry crane combines the very best quality features with a special emphasis on safety as a prime priority. TIDD PC28— ultimate pick and carry crane is available for you at AOR cranes. 
TIDD PC28  Features
With a huge 28t lift capacity, the TIDD PC28 is the ultimate pick and carry crane for your operation. The TIDD PC28 has been designed and manufactured by TRT with a focus on safety and operator comfort. 
Slew Safe is designed to prevent rollovers and works with several features including audible alarms, LMI warnings and power steering
Full power, 3 sections telescopic boom

Articulating up to 44° for max manoeuvrability onsite

Small footprint to move and lift in tight spaces

75% stationery chart and 66% pick and carry a chart

Ability to road its own 2.3t counterweight

ROPS certified cabin for maximum driver safety

Slew Safe for maximum operation safety is recommended
European standard automotive finish;

shortest forward projection in its class;

an outstanding turning radius, articulating 44° on either side;

2.3t roadable counterweight;

Mercedes Benz DM906 six-cylinder, turbocharged intercooler 205kW diesel engine;

6.12-18.65 high tensile boom;

Allison 3000 series automatic transmission, 6 speeds forward;

Kessler high-speed planetary axles with diff lock on front axle;

Meritor transfer case;

two-stage engine and exhaust brake;

410-litre tank with locking cap;

automatically activated emergency hydraulic steering;

dual line airbrakes on all wheels with ABS;

pneumatically released spring-applied emergency/park brake on all wheels;

Ergonomic ROPs cabin;

150kg rated suspension seats;

3 point integrated safety belts
The optional features include:
Slew Safe;

traction air tyre pressure management – maintaining 130 PSI at all times;

1.1t super lift counterweight.
TIDD PC28  Capability
Increased lift capacity and greater manoeuvre ability for smaller work areas are key benefits of this new crane.
The TIDD PC28 is constructed using the highest quality components with safety a major focus with every element of its design. 
Talk to us today about your next project that requires a TIDD PC28 pick and carry crane, you will not be disappointed. 
TIDD PC28 Sydney Crane Hire, AOR Cranes
You can rely on AOR Cranes for TIDD PC28 cranes for hire in Sydney. We are specialists in the construction service provider field and can offer profound information and recommendations custom-fit to you and the demands of your specific project. 
Over the last 28 years, we have worked on numerous projects in the Sydney metro area, NSW regional areas and interstate.
Over the years AOR Cranes have bonded strongly forming alliances with Sydney Water and worked on many of their projects and site upgrades including:
North Head Sewage Treatment Plant

Rouse Hill Recycled Water Plant

Glenfield & Liverpool Sewerage Treatment Plant upgrades and renewals and more projects
Call us on 0414 441 667 or visit our contact us page here. We look forward to hearing from you!
If your interested in the Tidd PC28, you may also be interested in our