Tadano Crane GR-200EX Hire In Sydney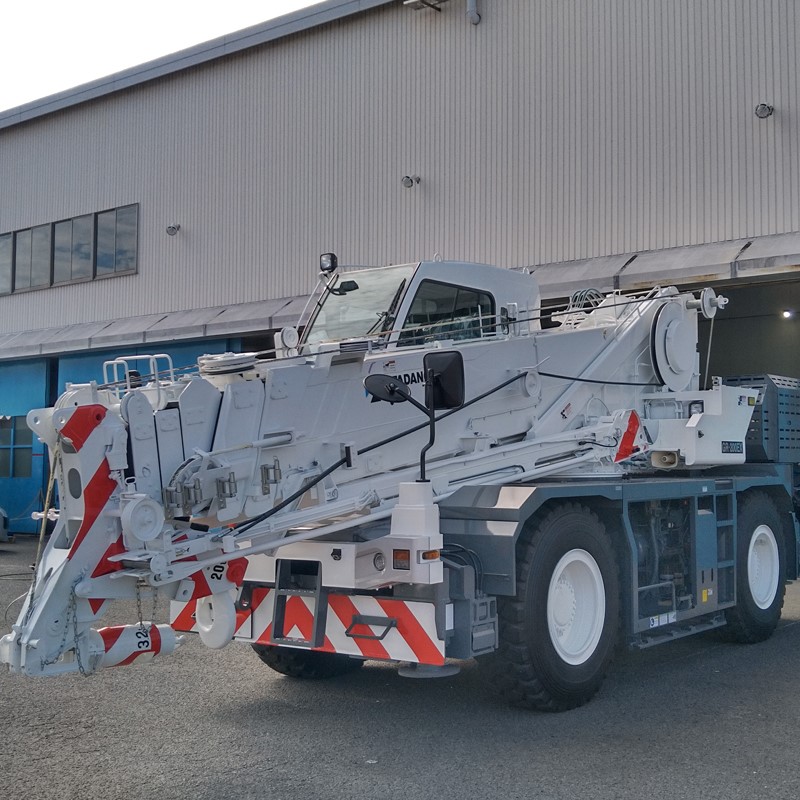 TADANO CRANE GR-200EX  Crane Services Sydney
Construction sites in Sydney are increasingly becoming more rigid and less accessible, this has introduced the need for more compact cranes. AOR Cranes supplies city suitable Sydney cranes with astonishingly high reach and high mobilities to complete your project, no matter the size. Hire our Tadano GR-200EX 20t city crane today.
These vessels are designed to comply with Australian road regulations. Compact and quick setup coupled with increased visibility for the operator. 
Controls of the maximum engine speed at the time of crane operation are simple and clear and fuel consumption and carbon dioxide emissions decrease by up to 16% with Eco mode 1, and up to 34% with Eco mode 2, and noise level is also reduced.
Tadano Crane GR-200EX Features
Tadano Crane GR-200EX has a high-performance engine with features that suit the needs of your projects. Its build effectively controls the quantity of hydraulic pump discharge during crane operation in response to the amount of movement applied and reduces carbon dioxide consumption by up to approximately 21%.
Features 
2 Single winches; an Automatic brake
Swing bearing
Swing free/lock changeover type
Swing comes with a negative brake
PTO Wet multi-plate clutch
2 Variable piston pumps
2 Gear pumps
Automatic movement limiter [AML]
Outrigger extension width detector 
Swing range controller
Swing automatic stop device
Boom elevation slow and stop device
Over-winding cutout device
Level gauge
Hook safety latch
Specifications: 
Max. Lifting Capacity: 20t
Boom: 6.5 m – 27.5 m
Boom extension: 4.5 m – 6.9 m
Max. Sheave height: 35 m
Max. radius: 27.8 m
Engine: Cummins QSB6.7-4C
Carrier: 175kW (238 HP)
Dimensions: Length: 8.3 m, Width: 2.45 m ,Height: 3.2 m
Tadano Crane Capability
When you choose AOR Cranes for Tadano Crane GR-200EX crane hire in Sydney, you will be equipped with one of the most multipurpose lifting ancillary equipment available. 
The Tadano Crane GR-200EX Large 10.4-inch colour multi-function touch panel display consolidates operation information and settings for increased work efficiency and comfort. The touch panel is pressure-sensitive to detect gloved operation. It also supports safety culture with its birds-eye view image of cranes available to operators.
Tadano Crane Sydney Crane Hire, AOR Cranes 
Over 28 years of experience—we are worth our weight and salt. 
AOR Cranes Hire provides crawler cranes, tower cranes, rough terrain cranes, and all-terrain cranes for hire and sale. These cranes are available across Sydney as self-driven machinery, and drivers are also available when needed. 
If your project is in Sydney, Blue Mountains, or Southern Highlands, we can assist you! AOR Cranes service is miles above what other crane hire services Sydney usually offer. We set ourselves head and shoulders above others by providing premium crane services. 
We have an extensive fleet of mobile telescopic cranes and self-erecting tower cranes suited to Sydney city, rough terrain and all-terrain environments. We share a core value of professionalism and integrity with our highly skilled employees who operate at the highest standards. 
Construction works for commercial buildings and commercial purposes require high-grade equipment that is equal to the task to get the job done perfectly and efficiently. 
Tadano Crane GR-200EX are designed precisely for tough terrains! Unlike truck cranes, Tadano GR-200EX rough terrain cranes are built to maneuver through rough roads, tight corners, possess a lower centre of gravity, increased steering capabilities, traction and power.
Do you have a project that requires quick and reliable crane hire services in Sydney, AOR Cranes & Rigging are ready to help. 
We have almost three decades years of experience working in the industry, making us an ideal choice for small and medium and large scale businesses.
There are several reasons you should choose AOR for your crane hire Sydney needs:
Our cranes are kept at a top-quality to ensure top efficiency
Our professionals have years of experience in providing the equipment needed for different construction projects.
Affordable cost and reliable services
If you want to take a look at some similar options, then check out our other alternatives like our