LTM 1090 4.1 Hire In Sydney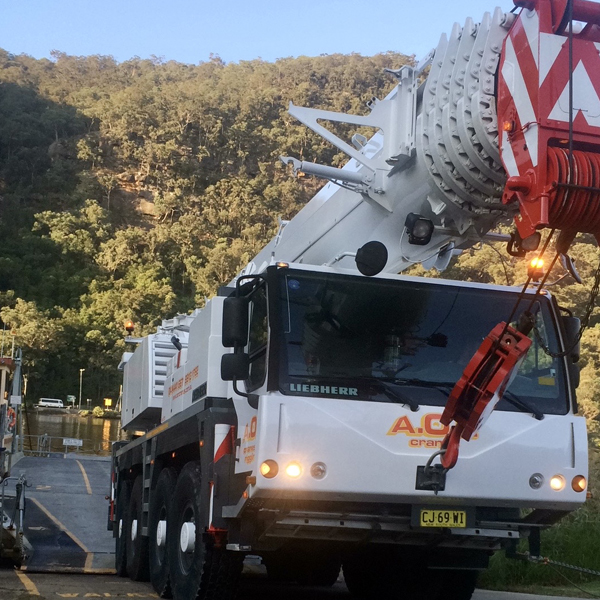 Liebherr LTM 1090 4.1 CRANE HIRE IN SYDNEY
AOR Cranes – Your Trusted Crane Solution Provider
Looking for efficient and reliable crane hire in Sydney? AOR Cranes offers the Liebherr LTM 1090 4.1, a high-performing crane designed to meet your lifting requirements. With its impressive load capacity, telescopic boom, and advanced safety features, the Liebherr LTM 1090 4.1 is ideal for various heavy-duty applications.
Key Features of the Liebherr LTM 1090 4.1 Crane:
High Load Capacity: The Liebherr LTM 1090 4.1 crane boasts an impressive load capacity of up to 90 tonnes, making it perfect for handling heavy loads in construction, infrastructure, and industrial projects.
Telescopic Boom Length: With a telescopic boom extending up to 60 meters, the Liebherr LTM 1090 4.1 provides exceptional reach and flexibility, enabling you to access challenging areas and perform lifts at significant heights.
Mobile and Manoeuvrable: Mounted on a mobile chassis, this crane offers excellent mobility and manoeuvrability, allowing for easy transportation between different job sites in Sydney and nearby areas.
Advanced Safety Measures: Safety is paramount in lifting operations. The Liebherr LTM 1090 4.1 comes equipped with cutting-edge safety features, including load moment limiting systems, outrigger monitoring, and advanced control technology, ensuring a safe working environment.
Skilled Operators: AOR Cranes provides experienced and certified operators who are proficient in operating the Liebherr LTM 1090 4.1. Their expertise, combined with the crane's capabilities, guarantees precise, efficient, and safe lifting operations.
Why Choose AOR Cranes for Liebherr LTM 1090 4.1 Crane Hire in Sydney?
Reliability and Performance: AOR Cranes is renowned for providing reliable crane solutions. The Liebherr LTM 1090 4.1 is meticulously maintained to ensure optimal performance, delivering exceptional results for your lifting needs.
Efficiency and Productivity: With its impressive load capacity and long telescopic boom, the Liebherr LTM 1090 4.1 maximises efficiency and productivity, enabling you to complete projects on time and within budget.
Safety First Approach: Safety is a top priority at AOR Cranes. The Liebherr LTM 1090 4.1 is equipped with advanced safety features, ensuring the well-being of operators and minimising the risk of accidents during lifting operations.
Flexible Rental Packages: AOR Cranes offers flexible rental options tailored to your project's duration and requirements, providing cost-effective solutions without compromising on quality or safety.
All Terrain Crane Liebherr LTM 1090-4.1 Sydney Crane Hire AOR Cranes
Are you interested in the Liebherr LTM 1090 4.1 Terrain Crane in Sydney? Let us know your requirements, contact us via phone or submit a message via our 'contact us' section down below.0414 441 667 or fill out this
Established in 1993, AOR Cranes is a reputable local company committed to professionalism and integrity. We offer a wide range of crane hire and rigging services.
Central to our operations is a specialized group of skilled and knowledgeable professionals, including crane operators, riggers, fitters, and technical support staff. They possess extensive experience and qualifications, ensuring top-quality crane services in Sydney.
Before deciding on one specific crane, why not take a look at our similar options like
X
Book Now Form
Error: Contact form not found.