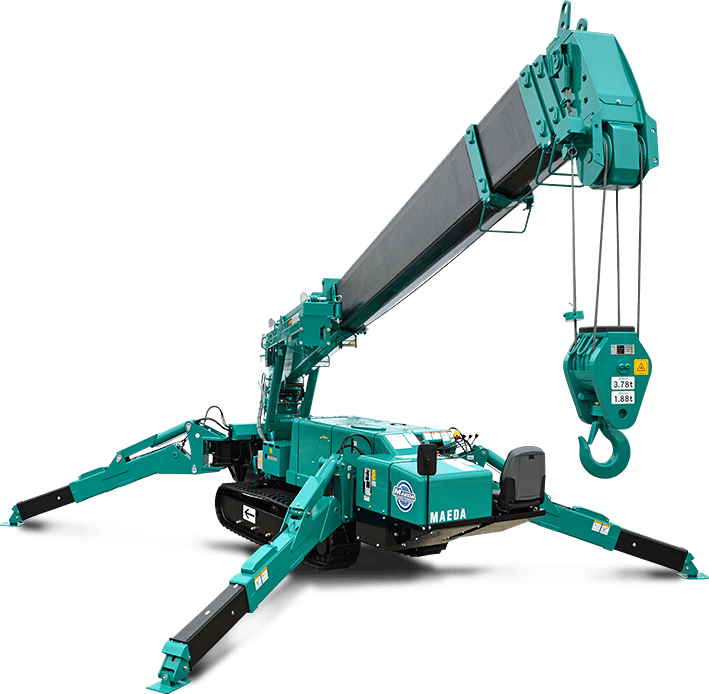 Mini Crane Hire Sydney
We are the leading provider of mini cranes for hire in Sydney. We operate a fleet of mini cranes, ranging from 5 tonne to 20 tonne capacity. Whether you need spider crane hire, crawler crane for hire, or any other crane hire options we've got the right one for your project. Our crane fleet is vast and efficient, we have a crane for any job you have. Our range of mini cranes gives us versatility and flexibility, allowing us to effectively complete all jobs without compromising safety. AOR Cranes' team has years of industry experience, and we have delivered exceptional service for thousands of satisfied clients over this time. 
Our focus is on delivering safe, high-quality service through our experienced team of operators and our well-maintained fleet of machines. We offer complete crane hire solutions for all your construction needs, including transportable tower cranes, crawler cranes, mobile crane hire, rough terrain cranes and more! For more information or to enquire about our mini crane hire solutions in Sydney, call 0414 441 667 today or fill out an online quote request now!
What is a Mini Crane?
A mini crane is a type of construction equipment used to move items from one place to another. The biggest difference between a mini crane and other types of cranes is its size and portability. Mini cranes are used for site work and are highly desirable for their versatility and ease of use. The compact design of mini cranes makes them ideal for moving small loads within a tight workspace. Ideal for maintenance, installation, landscaping and hoisting applications within residential and commercial environments.
Mini cranes are an alternative to using a larger conventional cranes within smaller environments since they do not require a large open space to operate in and can be used on most project sites. With the ability to navigate through tight spaces, mini cranes can be put to use in areas that otherwise would not be accessible by larger traditional cranes.
What do Mini Cranes Do?
A mini-crane is a mobile crane but can only lift between one tonne and fifteen tonnes. A mini crane has a small hoist and jib that can be easily moved around onsite and they usually have outriggers attached to the wheels for stability. Mini-cranes are ideal for work in restricted spaces.
Mini cranes may be used for a range of tasks including the following;
Loading trucks

Transporting and positioning machinery or equipment

Moving pallets of goods

Loading and unloading containers from ships and trains

Construction by lifting items from one place to another, such as lifting bricks onto a building or scaffolding

Loading and unloading material at mining sites using shovels or excavators

Working on construction sites

Underground mining

Inspection of bridges, chimneys, cooling towers, high rise buildings etc.
Mini-cranes are able to lift loads such as steel beams, concrete blocks, and various other loads depending upon the weight of the load.
Maeda 405 Crawler Crane
The MC405-3 is a highly powerful Mini Crane renowned for its remarkable lifting capacity of 3.83tons. This versatile model offers a unique Pick and Carry capability of up to 500kg, providing unmatched flexibility on the job site. With the optional fly jib, its already impressive working range is further extended. Additionally, the MC405-3 features a class-leading Searcher Hook with a capacity of 1500kg, offering enhanced lifting capabilities. Equipped with a Yanmar diesel engine, this crane meets the stringent gas emission standards of EU Stage V, ensuring compliance with the latest environmental regulations.
Maeda MC – 305c Crawler Crane
Maeda MC – 305c  is a great crawler crane that is ideal for use on different building sites. Its compact size makes it easy to manoeuvre through tight spaces and on smaller sites, while still offering a maximum capacity load weight of 2.98 tonnes. This is ideal for internal building projects such as hotels, apartments, retirement villages and residential developments. The Maeda MC – 305c can be used for various projects depending on your specific needs.
Maeda 285 Crawler Crane 
This crane is built for both indoor and outdoor use. It is compact, movable and easy to store. The mini crawler crane is a lightweight model that makes it safe to move around in tight spaces. The Maeda 285 is capable of lifting up to 3 tonnes and has a working radius of 2 m (6 ft) and a maximum lift height of over 31 feet.
All of these qualities make it the ideal crawling crane for:
lifting light loads on the truck's bed.

repairs in warehouses and construction sites

working in confined spaces

In door Construction
The Mini Maeda 285 Crawling Crane is easy to operate, even for inexperienced users, thanks to its simple hydraulic systems and automated controls. Its operator can control the boom using just one button. If you have any questions about our crane hire services or would like to request a quote, please contact us today on 0414 441 667 or fill out this form. We look forward to helping you out with your crane hire needs!
If you like the sound of this crane, it may also be worth looking into our other crawler crane option
X
Book Now Form
Error: Contact form not found.